Your innovation partner for embedded systems, electronics, software and functional design solutions.
We utilize our experience to cary your idea/product beyond technical, legal, and competitive market challenges.
Concept to Creation – Engineering for Innovation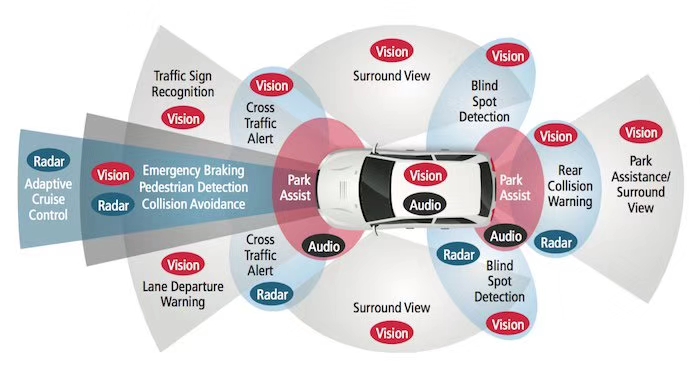 ESLEK Embedded Technologies [ENGINEERING & PRODUCTION OEM/ODM] YOUR ENGINEERING PARTNER, FROM IDEA TO INNOVATION: CONSULTING, HARDWARE AND SOFTWARE SYSTEM ARCHITECTURE FOR ECU's, CUSTOM DEISGN or COP- INTEGRATION & MIGRATION, PROJECT PLANNING, DEVELOPMENT AND PRODUCTION, SERVICES, COURSES, SEMINARS, ASPICE, ADAS, INFOTAINMENT, NAVIGATION, AUTONOMOUS DRIVING, LIGHTING, GATEWAYS, OBDII, DTC, BATTERY MANAGEMENT, INVERTERS, DV/PV TEST, WIRELESS, TELEMATIC, IoT, INDUSTRY4.0, SMART CITY, AVIONICS, HEALTH MONITORING, HVAC, RAILWAY, LOGISTIC, TRANSPORTATION, FLEET MANAGEMENT, TOLL COLLECT – MAUT, ASSET TRACKING, AUTHENTICATION, HPC, DATA ANALYZE, DEEP & MACHINE LEARNING, ROBOTICS ENERGY HARVESTING, ULTRA, EXTREM LOW POWER, CRYPTOLOGY / PENETRATION TEST, CERTIFICATION, ACREDITATION, PROTOTYPING and SERIAL PRODUCTION, REAL TIME MEASUREMENT, INSTRUMENTATION & MONITORING SYSTEMS, NODE INFRASTRUCTURES, CLOUD-/FOG- INTEGRATION & MIGRATION
We provide:
Consulting, Hardware und Software System Architecture, Integration & Migration, Project Planning, Development and Production;
IoT, M2M, Industry4.0, Smart City, NFC/RFID, GSM, 5G, GPS, Bluetooth/BLE, Energy Harvesters, Battery Management Systems, Ultra Low Power, ADAS, HMI, Infotainment, Connectivity Car2X, X2X, CCC, e-Call, Camera, LiDAR, RADAR, Ultrasoundsensors, PowerTrain, Sensor Fusion, Battery Management Systems, E-Car Inverters, Functional Safety ISO 26262, Automotive Cyber Security ISO/SAE 21434, HVAC, MAUT, Toll collect / Tracking, Health / Asset Monitoring, Sensors, Transducers, Transmitters, Actuators, Coders/Encoders, Real Time measurement and instrumentation systems, Node Infrastructures, Cloud/Fog Integration & Migration.
Custom Hardware – Software – Mechanics Design & Development, EMC / EMI, Functional / Penatration Test, Certification and production in series.
Consulting of Supplier nomination and selection, in view of SWOT, quality and ROI. Coordination, follow-up between stakeholders, teams and suppliers, Technical Lead, SQE , SCM, RFI, RFQ, RFP, Quality Assurance, Product/Function Owning,
Spectrum:
Automotive & Connectivity, BMS, Railway, Avionic, Medical, IoT, Industry4.0, Industrial Automation, Smart Cities, Green Energy.
Services: Consulting, Turnkey Hardware & Software Development, Mechanic Construction, Integration / Migration, Certification, Series Production, After Sale Services, Trainings.
Principles: Sustained partnership, collaboration, exceeding best project result and providing best after sales support is our motto. Complete confidentiality for every sensitive project with NDA for brand customers.
Engineering Team: Always on frontend of technology. Investing in team to stay there. Trust, colloboration, communication and teamspirit are our recipies to provide innovation.
Project Management: On specific projects to have definite outcomes, we define, run and monitor entire Projectplan, Scope and Workpackages, Schedule, Budged, Risk, Quality, Resources, KPI, SoW, GAP, Reporting.
Car2X Connectivity, Tachographs, Tracking and Geo Fencing Systems, HMI, L2/L3 ADAS ECU.
High Density SuperCap Balancers, Battery Management Systems.
Traffic Management systems with Low power Long range IoT radio modules.
HOT!.. OEM ADAS ECU L2 L3 Platform.
admin
2021-07-07T23:22:40+00:00